Tonido 's new iOS app gives you the ability to access, share, and stream personal documents, video, and music across the internet from any device, effectively turning your home computer (Mac, Linux, or Windows) into your own private cloud server.
This is how Back to My Mac should have worked, and promises effortless sharing and streaming of media with virtually no storage limits or compatibility issues. It represents a great option for those of us who have not headed entirely into cloud-based apps, or who have large pre-cloud media collections that exceed the space available on iDevices or were encoded in non Apple-approved formats.
The Setup
Step one in the Tonido process is the conversion of your home computer(s) into a personal Tonido cloud server, which sounds complicated but relies on a host of intelligent configuration steps to do all the heavy lifting for you. Simply download the free Tonido desktop app here, create a Tonido user account, and you get a customized URL that points you back to your home computer. This URL can be accessed from other computers via a web browser, or via Tonido's new iOS app (also free). The access is handled automatically as web traffic, so no router setup should be needed (if you don't know what that last sentence means, then this is a great solution for you!). Tonido promises to grant you access to everything on your Mac without uploading it to a cloud storage location (like Dropbox) or converting files into cloud-friendly formats (like Google Docs).
Media
The Tonido app's biggest selling point is its live streaming capabilities for music and movies, which makes your media library available without the need for file conversions.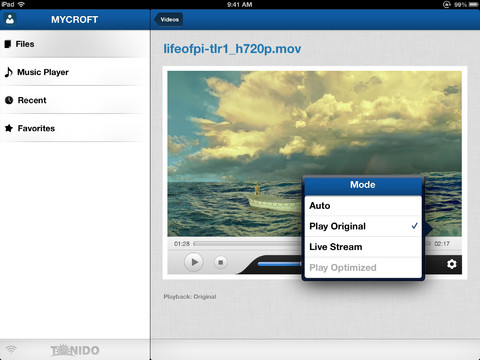 Movies encoded in M4V, AVI, VOB, WMV, FLV, and a host of other formats both popular and esoteric are converted on the fly by your host computer, and then streamed to your iDevice via cellular or WiFi connection. Music encoded in non AAC format—such as FLAC, OGG, and WMA—is also transcoded live for delivery, so if you are in the office or on the road and want to jam to a song that isn't in your iTunes (and library therefore not on your iPhone), there's now an app for that!
In addition to the media features, one of Tonido's other great features is its ability to keep you in touch with your home media even in an ever-changing world of dynamic networks and on-the-go cellular/WiFi connectivity. The Tonido servers act as a directory service, allowing your iDevice, home computer, and remote computers to phone home no matter where they are, and then access data directly on your own devices (so when you stream music via the Tonido app, it comes directly from your home computer). This is in contrast to other cloud services which require you to upload your files to their storage service, thereby letting that data out of your control. If data privacy is a concern that has kept you out of the cloud, Tonido's solution lets you cloudify your own resources without giving up direct control of the data in question.
Be sure to check out full details of Tonido's services here, including their paid Pro and Biz versions, and download the Tonido iPhone/iPad app here. Not sure what a cloud service is? Check out Tonido's helpful intro video for details on that.