Okay, so maybe not totally practical, but way cooler than that Red Bull Mini Cooper with the giant can of Red Bull on the back.  On the MTX ride, the headphones actually work with 12″ speakers.  On the Red Bull ride, you can't just hold a cup underneath the can and grab a twich-inducing drink.  MTX does do some pretty cool installs.   For those who really play inside baseball, I'll always remember those MRI Machine amplifiers emblazoned with 'Thunder 1 Million' decals…
But, more importantly, the headphones sound awesome.
New York, NY – June 26th, 2013 -MTX Audio, the leader in high performance mobile, home, marine, and personal audio solutions, today announced the release of an all new show car designed to highlight the StreetAudio brand of portable music accessories.
MTX Audio has a passionate history of show cars that have set the bar for over the top extravagance from the lowered Extreme 9500 Chevrolet S-10 the dual JackHammer Cadillac Escalade EXT, MTX has never stopped at enough. This new StreetAudio car is no different. What started as a simple enough HHR has morphed into a moving billboard for the StreetAudio brand including the largest pair of headphones ever developed. As the inventor of the JackHammer, we had to go big on this build as well.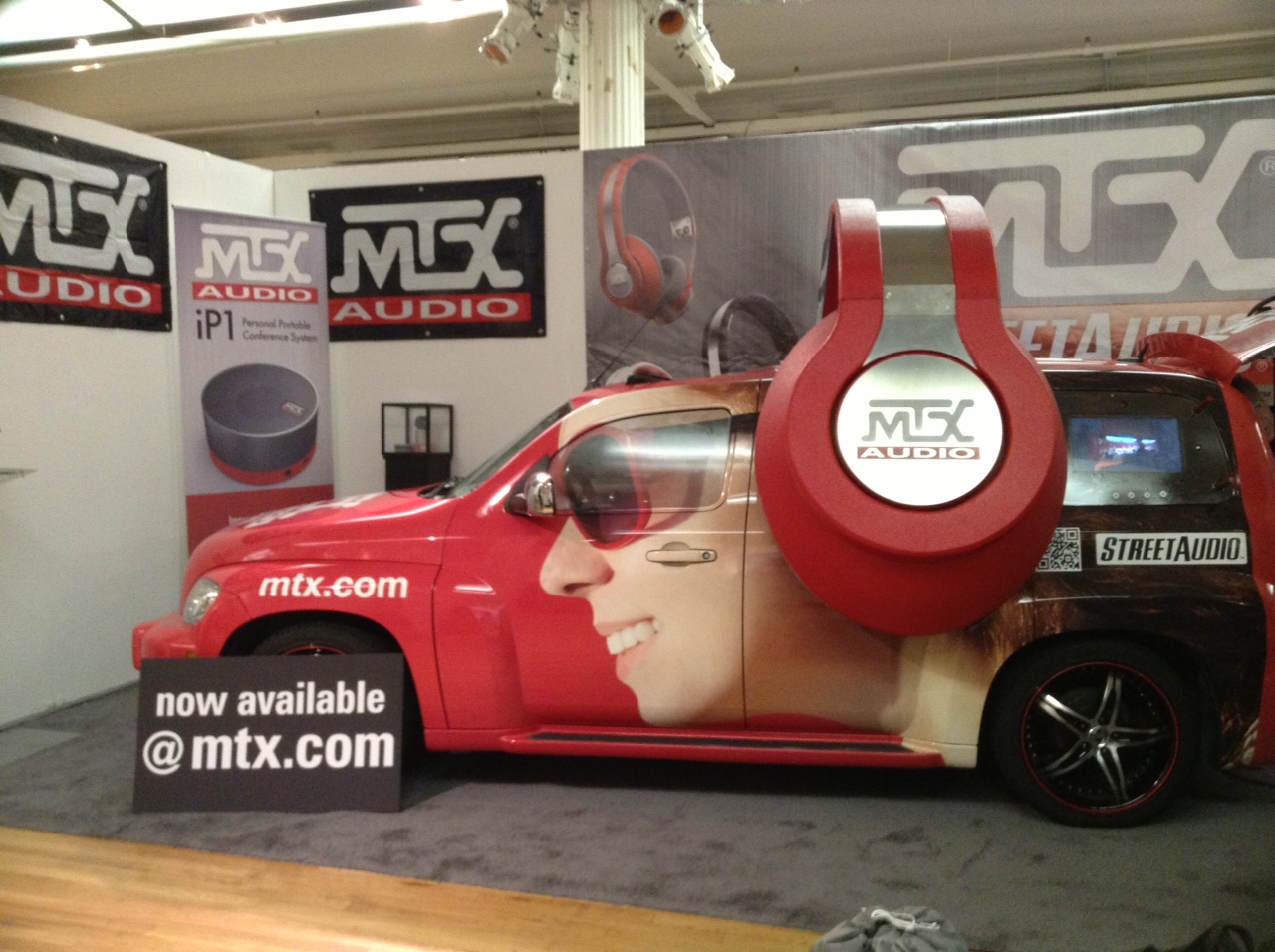 This HHR boasts not only an outstanding install and stereo system, but it also has the ability to "wear" the largest pair of working headphones in the world. These "on ear" headphones feature the same cosmetics as the MTX StreetAudio iX1 model but 20 times the size and include 12″ full range speakers that play into the vehicle as part of the stereo system. Additionally, there are four 3.5mm inputs on each side and an additional four in the hatch so that listeners can experience the quality and performance of the StreetAudio headphones at events. This HHR is finished off with a high quality wrap featuring the image of a beautiful woman that actually "wears" the headphones when they are installed, side panel video monitors and integrated cameras that let users see how they look wearing the headphones, a fold down rear hatch flat panel television, and matching wheels that tie the whole vehicle together.   
The StreetAudio HHR will be part of the MTX Audio Street Team tour in 2013 and beyond at events across the country so look for it coming to a city near you.